Fred Anton Corvest
Music is a wonderful universal language and an amazing source of happiness
FAC is a one person business, and as you may guess designing such apps is a very long process.
WANT TO SUPPORT FAC?
WANT TO SUPPORT MORE?
A small donation would show your appreciation and enthusiasm to keep this project moving along. Thank you
Versatile And Characterful Compressor

Gentle, natural, or aggressive and colorful compressor
Combine different dynamic processors into a single and easy to use unit
3-Band input tone controls with adjustable crossovers and saturators
Split/Sum frequency bands before compression
Two dynamic controls: Downward or Upward
Range and knee controls to limit compression depth
Parallel compression and master Brickwall limiter
Sidechain and multi-outs support
Precise metering with decibel values
Advanced Responsive Design, portrait and landscape views
AuV3 for iOS (iPad/iPhone)

FAC Medusa IAP Get your FAC Medusa T-Shirt
Versatile And Characterful Compressor
Compressors are probably the most used audio processors and you surely know what it's all about and how it can help to control the dynamic range of your audio signal. So let's get straight to what makes FAC Medusa a new versatile and characterful compressor!
FAC Medusa combines different dynamic processors into a single and easy to use unit, the input signal flows along the following stages:
Pre-amp with tone control and saturation circuit The input signal is split into three bands of frequencies (Low, Mid and High) according two adjustable crossover points. Setting the level and the saturation amount of each frequency band will definitely make the effect more natural or characterful.

Compression In addition to the usual controls you may expect, FAC Medusa also provides two types of compression. Downward compression which decreases the level of audio signal above the threshold. And also Upward compression which is less known, despite powerful, and increases the level of audio signal below the threshold.

The compression can operate either on the SUM of the frequency bands (L+M+H) or on each frequency band coming from stage 1.

Parallel compression and Brickwall limiter The master Brickwall limiter is optional and will ensure that the output of stage 2, possibly blended with the original audio signal, remain under control. The limiter comes with threshold and release time controls.
As you have realized FAC Medusa has many faces: gentle, natural, or aggressive and colorful. Choose the one you want and be prepared for an exciting sound design experience. Whether you are a budding music producer or passionate amateur musician in any genre, you will definitely find a happy use for it!
A1
A2
A3
A4
A5
B
C
D
E
F
G

Ⓐ Pre-amp (before compression)

① Low, High crossovers freq to split the input signal in 3 bands
② Slope of the crossover filters (12dB to 48dB)
③ 3x Gain knobs to set the level of each band + Meters (L,M,H)
④ 3x Saturate sliders to apply saturation on each band (L,M,H)
⑤ Pre Comp, set how the compression will be applied after the pre amp. On each frequency band; Split OR on the Sum (L+M+H)

Ⓒ Gain Reduction Meter

Provides the amount of compression applied to the signal in decibel. When Pre Comp is set to Split you will get 3x meters, one meter per frequency band (L,M,H). When Pre Comp is set to Sum you will get only 1x meter (central position).

Ⓑ Compression

Compress defines the compression type: Downward or Upward
Threshold, any signal above/below this value is reduced/increased in level (according Compress type)
Ratio controls how much compression will be applied when the signal is above/below the threshold
Attack, sets the time it takes to start compressing the signal
Release, sets the time it takes to stop compressing the signal
Range limits the amount of compression applied to the signal
Knee, sets the strength of compression near the threshold position (0dB Hard Knee, 60dB Soft Knee)
Auto Gain, adjusts the compressed signal level to equal the signal level before the compression
Sidechain, uses an external signal provided by the host to control the compression

Ⓓ Parallel compression and Brickwall limiter

Wet, controls the level after the compression
Dry, controls the level of the original signal
Limiter Active, On/Off
Limiter Release, set the time it takes to stop limiting the signal
Limiter Meter provides the amount of limiting applied to the signal in decibel

Ⓔ Meter IN/OUT

Meter In, level of the original signal
Meter Out, level of the output signal
Limiter Threshold, any signal above this value is limited (yellow line)

Ⓕ Preset button

Preset manager (tap/long touch)

Ⓖ Info button

Review the app, Tip Jar to support FAC, documentation...
Linked parameters change

Long touch any of the pre-amp gain knobs (Ⓐ③) to alter the three values in one single take. This also work on the dry/wet knobs (Ⓐ①).

External Sidechain Input Bus and Multiple Outputs support

The slider sidechain is only enabled when an additional input bus is provided by the host.
A second Audio Unit extension named FAC Medusa (MULTI OUT) provides three additional outputs, one by pre amp.

Warning: You need a host able to provide an input sidechain bus and 3 output busses to the AuV3 plug in. Check the documentation of your host on iOS and macOS. Beware that some hosts may provide a muted additional input bus with no support of the sidechain feature, you will see the slider sidechain set to ON but the ducking will be ignored. In this case, set the slider sidechain to OFF. The additional AuV3 Multi Out extension will always be visible, even if the host does not provide an output bus.

Lookahead and Oversampling

FAC Medusa reports to the host the (low) latency related to the audio processing. Check that your host provides "Latency Compensation".

Always check your audio levels

In general, use the gain in parsimony, to avoid any excessive levels that may damage your ears or your system. FAC Medusa shall not be liable for any loss or damage of whatever nature (direct, indirect, consequential, or other) to your material (software, hardware, or other).

As with all FAC products, the interface has a unique sober look and provides a great user experience. The value of each knob can be monitored at any time. The knobs are very responsive, natural and follow a specific curve according to the parameter type.
Preset Management
FAC Medusa also comes with factory presets to provide you a source of inspiration to satisfy your needs in any situation you might require.
The preset button provides common management features: loading, organization, saving, importing and exporting. The left and right arrows allow fast navigation shortcuts among all the presets (factory + user), a short press on the center label provides a detailed list of all the available presets, select the one you want to work with. On the other hand a long touch (hold) provides contextual operation.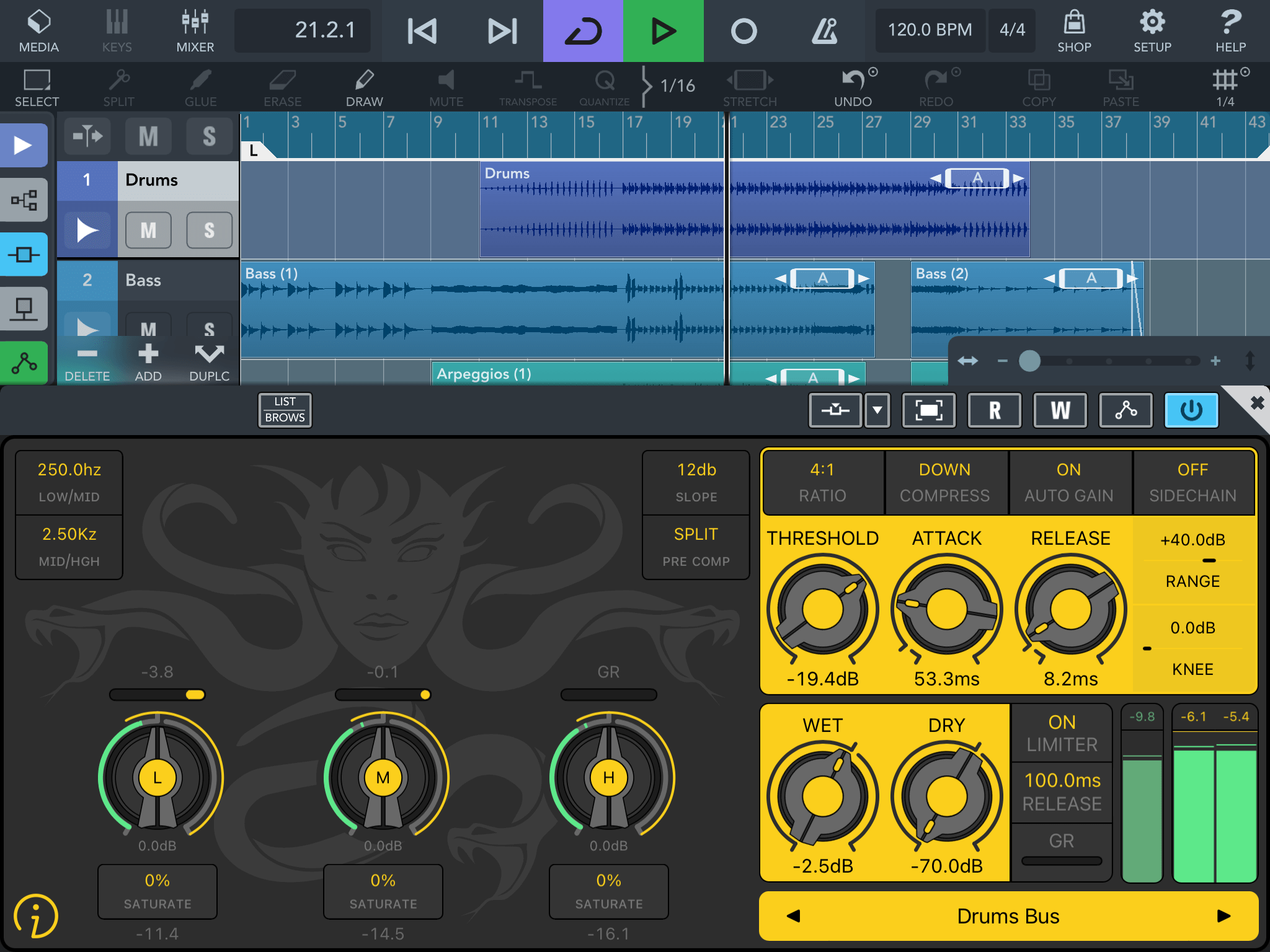 FAC Medusa - Cubasis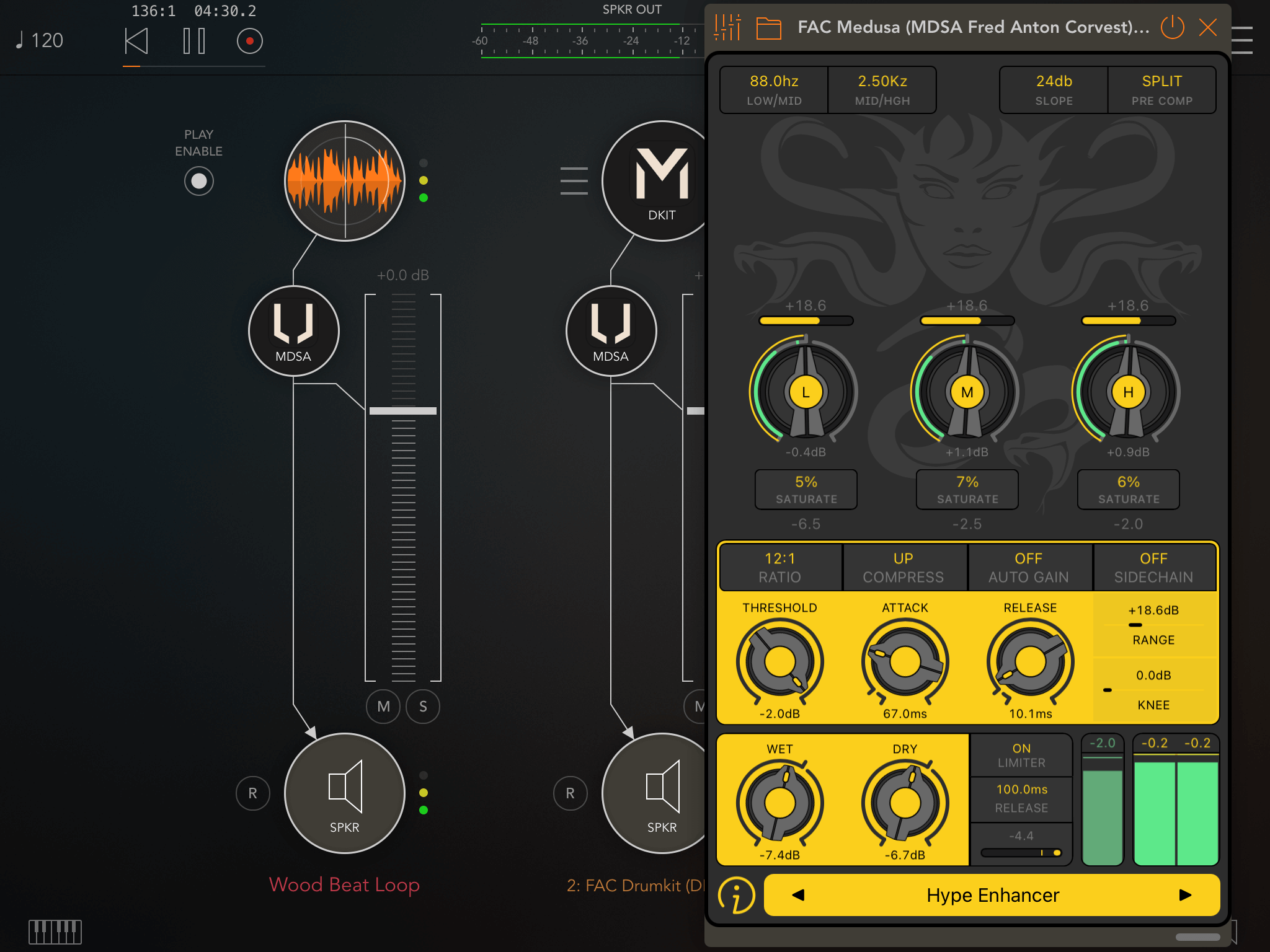 FAC Medusa - AUM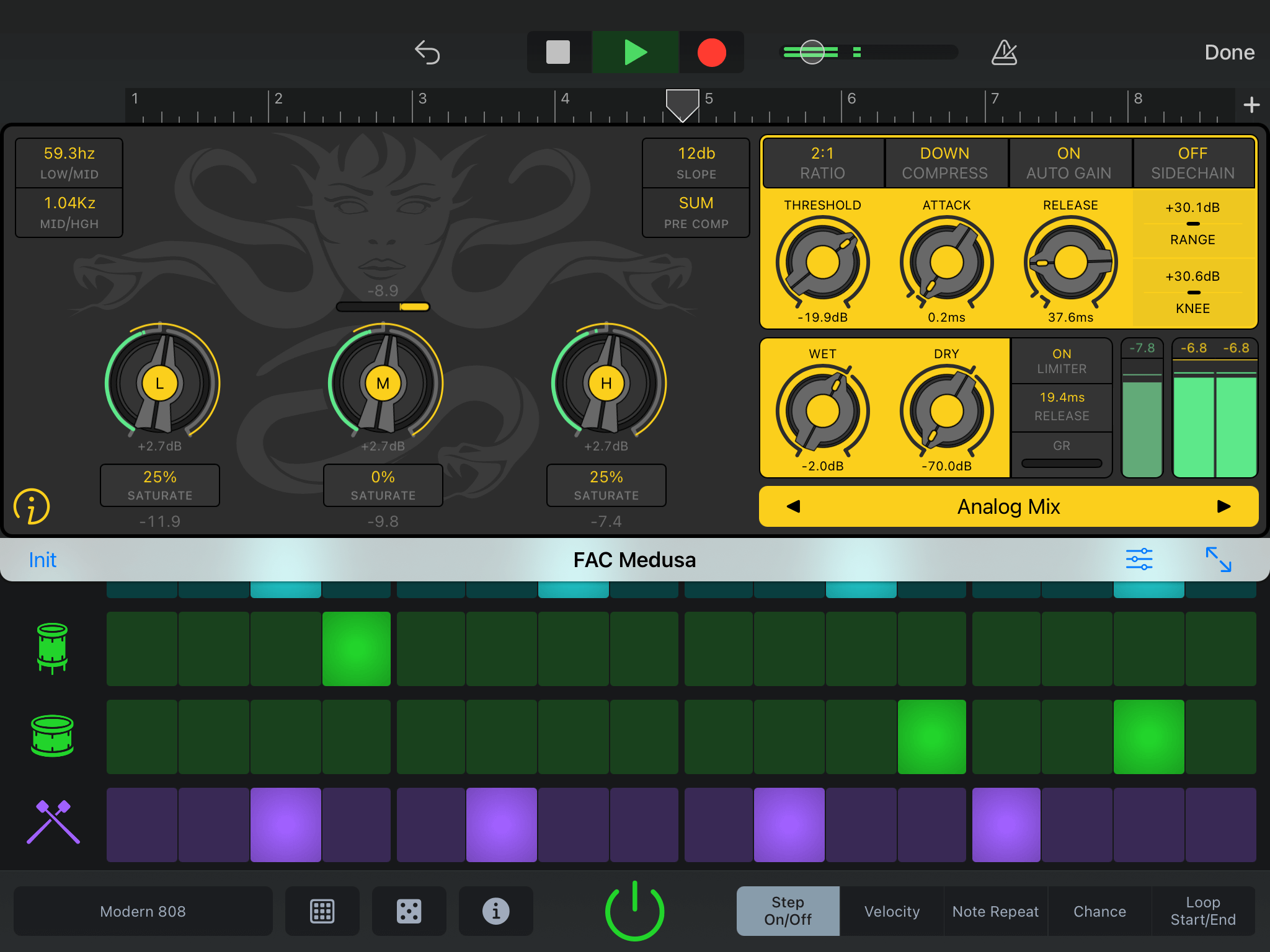 FAC Medusa - Garage Band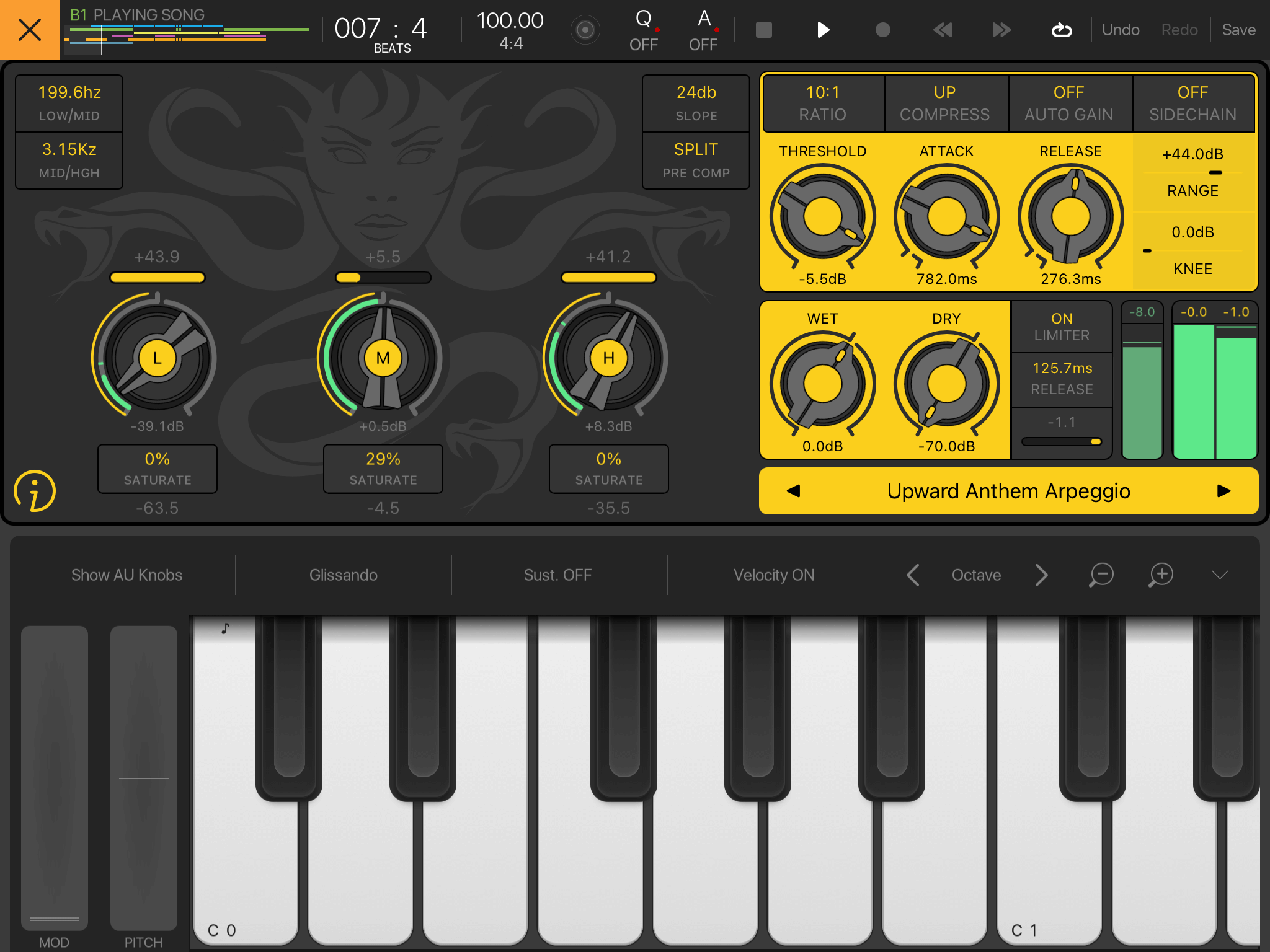 FAC Medusa - Beat Maker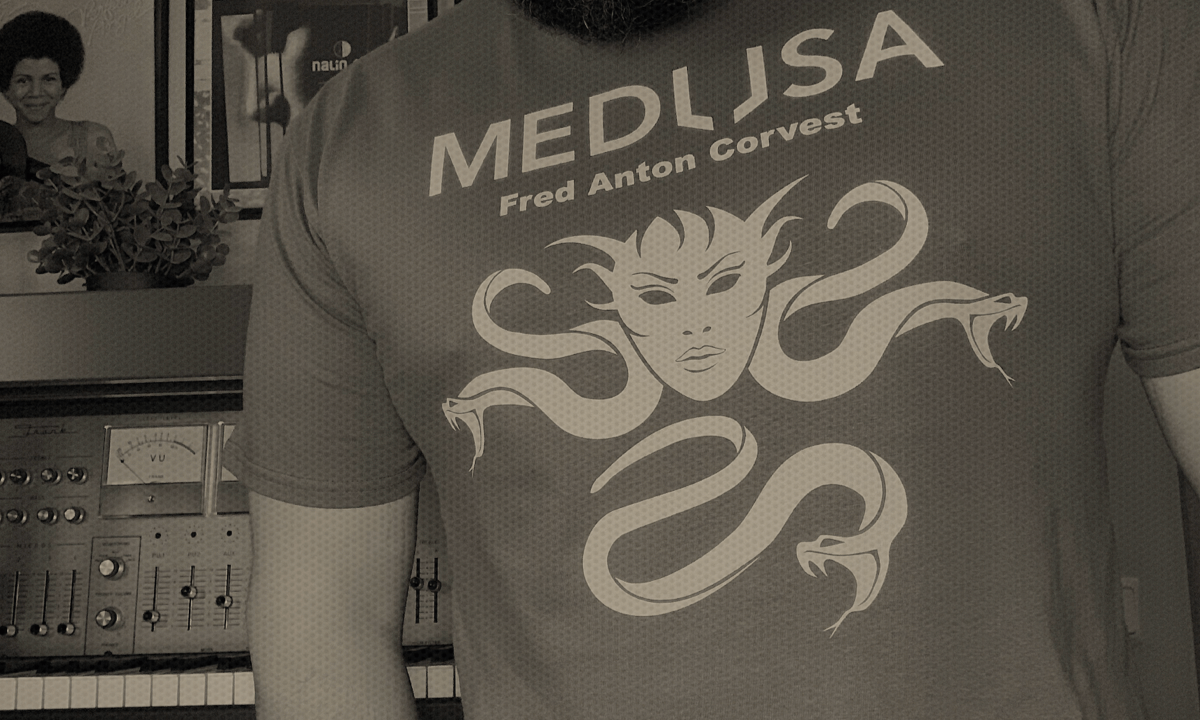 Check out what musicians think about FAC Medusa
Review Fac Medusa
on the App Store
Wow! Like always, it sounds really great! Just played my DFAM through it. Really really nice!
The saturation sounds so warm and analog, even when I drive it really hard.

Thomas
This sounds sooo damn good. Not all compressors are created equal!
And the animation from Sum to Split is beautiful!

Cue1m01
This is stunning, so much more than just a compressor!

Thesoundtestroom
I simply love it! It has the capacity to tame the decibels in a clean way or to color it to something crunchy!
Damn what a power tool! What a sound and color!

Hubert-Jan
What an amazing app, you broke the mould with Medusa!

Jade
Love from first seconds of use. Simple and effective, great sounding colours to your music material

Qbajew
It's quick, it's easy, it looks and sounds great. I've had it 10 minutes and I already love it

78b0bFace