Fred Anton Corvest
Music is a wonderful universal language and an amazing source of happiness
FAC is a one person business, and as you may guess designing such apps is a very long process.
WANT TO SUPPORT FAC?
WANT TO SUPPORT MORE?
A small donation would show your appreciation and enthusiasm to keep this project moving along. Thank you
Drum Synth And Sample Player

16 Voices Drum Synthesizer and Stereo Sample Player
2 oscillators (16 Waveforms) per voice with filters, Phase and Ring modulation
1 sample player per voice with sample position, filters, phase and stereo control
Expressive instrument: velocity amount per Amp and Pitch modulation (MIDI CC)
Randomization engine (Drum Synthesizer, Sample Player, Envelopes)
Advanced Pitch and Amp envelopes with multi control points and delay
Envelope templates, modifiers and copy/paste
Mute/Choke groups: reduce overlapping and keep your drums tight
Drag and Drop File Support and multi sample loading
Mixer: 16 voices (Multi Output - If Supported By HOST)
Pad controller: voices triggered by Pad (MIDI OUT and Velocity Sensitive)
Classic drum machines presets - Library explorer: drums organized by category
iOS AuV3 (iPad/iPhone) - Advanced Responsive Design, portrait/landscape views

FAC Drumkit IAP FAC Drumkit PatchStorage
Drum Synth And Sample Player
Everyone agrees that the drums are a very important key element of almost every genre out there, they are the foundation of a song. We are all fans of acoustic drums and drum machines, they each have different characters and strengths. FAC Drumkit combines both worlds, samples and synthesis, in order to provide new exciting and unique sounds. As a rule of thumb, the synthesizer section brings the body of the sound, and the sampler the unique character. Both parts are layered together and contain essential parameters to ensure they won't clash and will sit well together.
On top of the samples and synthesizer section, FAC Drumkit brings unique Amp and Pitch envelopes with precise control points to modify the curve in a gentle or extreme way. The envelopes play a very important part in the signal path because, thanks to their flexibility, they allow designing very special transition. Indeed, the envelope of a Clap is probably the best one to illustrate the benefit of such envelopes created with points. The burst kind of sound is very hard to replicate with classic ADSR, it's not the case in FAC Drumkit. Needless to say, thanks to the control points the pitch transitions are also more interesting and precise. The value of each control point can also be altered manually, to set the root note of a kick for example.
FAC Drumkit is for everyone, as sound designer you will be able to synthesize your own drums in a fun and creative way. On the other hand, if you are looking for instant results, use the provided presets or load your favourite sample pack in the sample section of the 16 voices.
The randomization engine makes the creation of new sounds really easy. Define what you want to randomize and you are ready to go. Remember that instrument category plays a role in the randomization process. For example, if you want to design a drum kick set the instrument label to BD (or use the voice index to get a wider sound palette). It's also very interesting to select a sound you like and start the randomization process from there, in a gentle way or not, thanks to the options available in the voice button (page selector).
FAC Drumkit is an expressive instrument, the amount of velocity can be set individually for each amplitude envelope, and the pitch envelopes can be modulated by external MIDI control change messages. The pitch modulation applies on control points or on the whole pitch envelopes.
The app comes with three pages, the voice editor, the mixer and the drum pads.
Page 1: Voice editor
1
2
3
4
5
6
7
8
9
10

① Stereo Sampler

Sample button user/factory sample manager (tap/long touch)
Main Button activates or mute the sampler
Phase phase inverter
HPF Cutoff/Q high pass filter cutoff and Q
LPF Cutoff/Q low pass filter cutoff and Q
Level sampler level

② Synthesizer (OSC 1/2)

Main Button activates or mute the synthesizer
Algo defines how Osc 1 & 2 interact: Off, Phase or Ring modulation
Waveforms Osc 1 & 2 16 waveforms + white noize (Osc 2 Only)
HPF Cutoff high pass filter cutoff
Pitch Ratio of Osc 2 ratio applied on the pitch env for osc 2
LPF Cutoff/Q low pass filter cutoff and Q
Levels Osc 1 & 2 level of osc 1 and 2

③ Randomization (Set options in voice button ⑨)

Sampler randomizer. Set options for params only, sample lock
Synthesizer randomizer. Set options for params only

⑤ Voice

Level of the voice
Waveshaper, soft clipping of the voice

④ Preview Button and Voice Selector

Main button to preview the sound you are designing
16 buttons to set the voice you want to edit

Tap to show the menu: copy/paste, set the instrument category, rename the voice, configure the mute groups or reset the voice
Long touch and hold to re-order
Each button accepts drag and drop gesture from Files

⑥ Envelopes Menu

Five buttons to select the envelope to edit, tap again the selected button to show the factory templates organized by category

⑦ Envelope editor

Touch and move existing points, double-tap to delete or create a point. Long-touch to set manually the position of a point. The graph contains handy information, such the root note or the nature of the sound regarding its position in the graph (transient, punchy...).

⑧ Envelopes Options

Dynamic options regarding the current control point and graph

Mod defines the depth of the pitch modulation
Vel is the amount of velocity to take into account per Amp
Delay shifts the envelope on the time axis (first point only)
Single/Group moves only the current point or all the points
Crop crops the envelope to the max time used (last point only)
Env provides Copy/Paste and env alteration facilities
Wide is the zoom mode. Wide or Lens (precise view of the attack)
Dice randomization of the envelope

⑨ Page Selector (From left to right)

Library explorer all the presets sounds organized by category
Voice tap the button to set the randomization behavior
Mixer
Pad tap the button to set the PAD option (velocity, style...)
Info and more Review the app, Tip Jar to support FAC, documentation...

⑧ Envelope Additional Parameters (Sampler only)

Width defines the width of the stereo image
Start the start position of the sample

⑩ Preset button (Always Visible)

Preset manager (tap/long touch)
Page 2: Mixer

16 Channel Strips (From top to bottom)
Multi Out Touch the top button to choose the voice output (main output or external)
Level of the voice. Long touch to set all the levels in one operation
PAN stereo position of the voice
MUTE the voice
SOLO the voice
Page 3: Drums Pads

16 velocity sensitive drum pads
The drum pads send MIDI out and supports velocity mapping from bottom to top. Or from low to high
To avoid any MIDI loop, it's possible to bypass the internal triggering. Tap the button page to show the options
Long touch and hold the pads to re-order the voices
In the page option you can also disable the HEX graphical style of the pads (if required)
Standalone App

It's a factory version only and you won't be able to save user presets. Always use the AuV3. Old version, and other FAC AuV3s require the standalone app for some operations, it's not needed for FAC Drumkit 2.0. All products will be updated accordingly.

Multiple Outputs support

Multiple output is available by default. In the mixer view you can choose where you want to route each voice output, the routing options are saved along your user presets. Factory presets are routed to the main output by default.

Warning: You need a host able to provide to the AuV3 plugin a set of additional output bus. Check the documentation of your host.

Loading user samples

You can load a total of 16 users samples, one sample (max 4 sec) per voice. The user sample files are not copied, FAC Drumkit uses and keeps secured bookmarks. Long touch (hold) on the Sample button to get the menu:

⇨ Load factory into the current voice
⇨ Load a user file or folder into the current voice
⇨ Load multiple user files or folders in one take (one file/folder per voice)

In addition, you can also drag and drop audio sample files from Files. FAC Drumkit is not a super sampler and it's focused on drums (transient one). The 4 sec duration applies to samples and envelopes.

Parameters Automation

The following list of parameters can be altered by the host application (such as AUM for example): oscs hpf/lpf(+q), osc2 pitch ratio, sampler hpf/q /lpf/q and voice level.

MIDI Input Mapping: From 36 (v01) to 52 (v16)

v01 C-2 | v02 C#2 | v03 D-2 | v04 D#2 | v05 E-2 | v06 F-2 | v07 F#2 | v08 G-2
v09 G#2 | v10 A-2 | v11 A#2 | v12 B-2 | v13 C-3 | v14 C#3 | v15 D-3 | v16 D#3

MIDI Control Changes (Pitch Modulation)

The pitch modulation can be controlled by external MIDI control change messages, one CC per voice. The control change identifiers are fixed and always available in the title of the envelope graphs.

The depth of the modulation, defined in semitone (step by 2), can be set per control points (ᴍᴏᴅ: P1, ᴍᴏᴅ: P2...) or on the whole envelope (ᴍᴏᴅ: PX). If set on control points, maximum 3 control points can be modulated, meaning let say one per section: transient, body and tail.

The modulation is exclusive, to alter the whole envelope you have to set the modulation depth of each control point to OFF. On the other hand, to alter only a set of control points, the envelope modulation depth must be set to OFF.

Important: the control change messages must be bipolar, 64 is the middle position and means NO modulation. Thus, if a pitch control point has a modulation depth of 12st and you send a CC message containing a value of 64 then no modulation will be applied. On the other hand, sending 0 will make the modulation to -12st and 127 to the maximum depth value, 12st.

CC message identifier per voice:

v01 11 | v02 17 | v03 23 | v04 29 | v05 35 | v06 41 | v07 047 | v08 053
v09 59 | v10 70 | v11 76 | v12 82 | v13 88 | v14 94 | v15 100 | v16 106

Always check your audio levels

In general, use the gain in parsimony, to avoid any excessive levels that may damage your ears or your system. FAC Drumkit shall not be liable for any loss or damage of whatever nature (direct, indirect, consequential, or other) to your material (software, hardware, or other).

Good practice: As soon as you add FAC Drumkit to a track, set the level around -6dB to -10dB to prevent overloading.

Import/Export of User presets

You can import or export user presets from the AUv3 at any time. The user samples are copied for each user preset and everything is organized in a zip archive.

Important Copyright and Licensing Notice: The user sample files bookmarked in FAC Drumkit by the customer are copied for the purpose of facilitating the backup of the data AND to share the user preset as long as the customer is the rightful owner, or the owner of redistribution rights, of the samples used.

As with all FAC products, the interface has a unique sober look and provides a great user experience. The value of each knob can be monitored at any time. The knobs are very responsive, natural and follow a specific curve according to the parameter type.
Preset Management and note about the default factory
FAC Drumkit comes with factory presets to provide you a source of inspiration for your sound design adventure. The provided presets, try to mimic some of the famous sounds you may find on classic drum machines. You will notice that the sample section (from the default factory) is often simple, mainly noises. This is done on purpose to show how easy it is to get interesting sounds with minimal elements. I enjoyed designing the factory presets because it was so rewarding to understand how different parts of the signal path interact to produce some famous sounds we all know very well.
The preset button provides common management features: loading, organization, saving, importing and exporting. The left and right arrows allow fast navigation shortcuts among all the presets (factory + user), a short press on the center label provides a detailed list of all the available presets, select the one you want to work with. On the other hand a long touch (hold) provides contextual operation.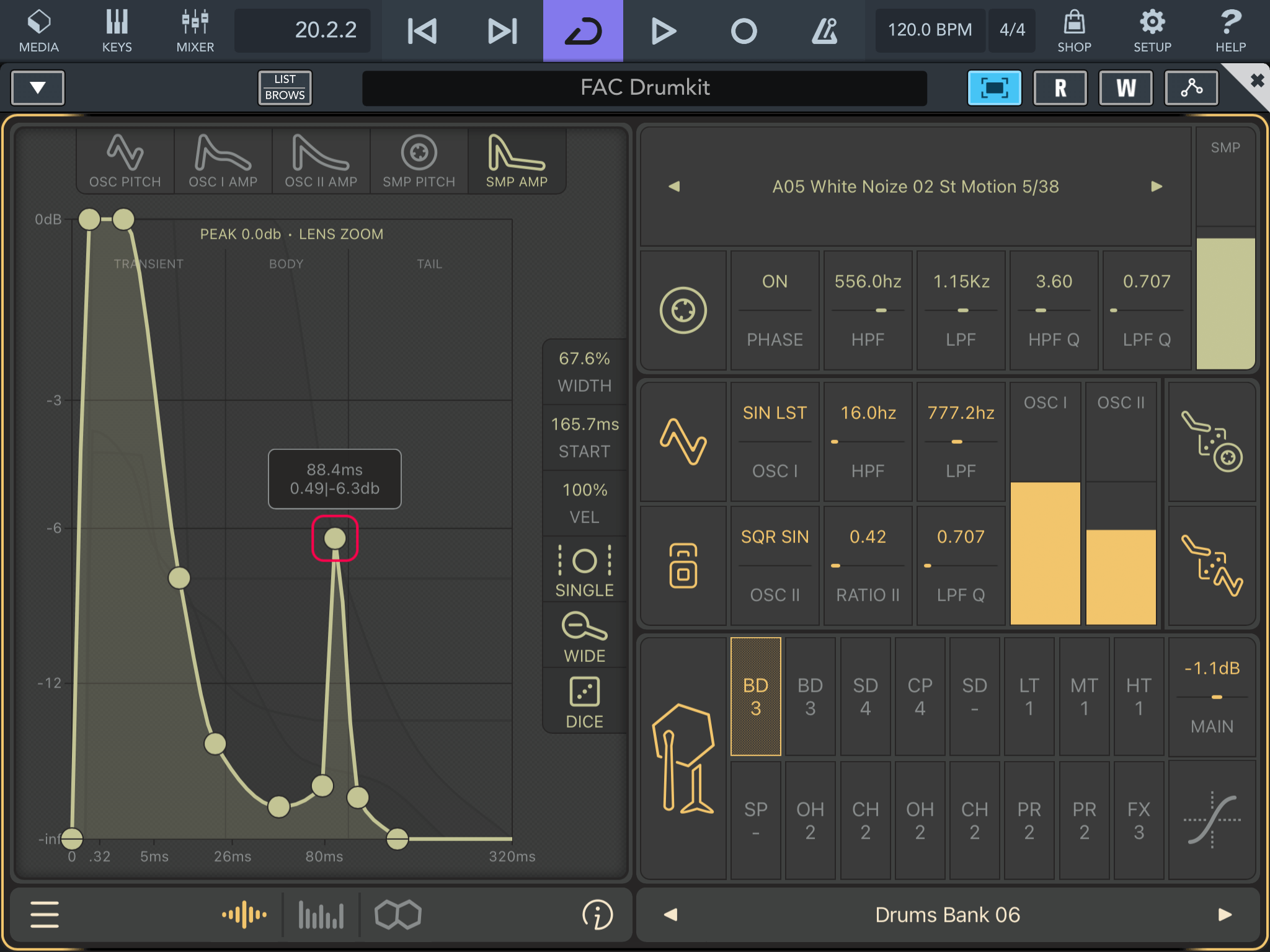 FAC Drumkit - Cubasis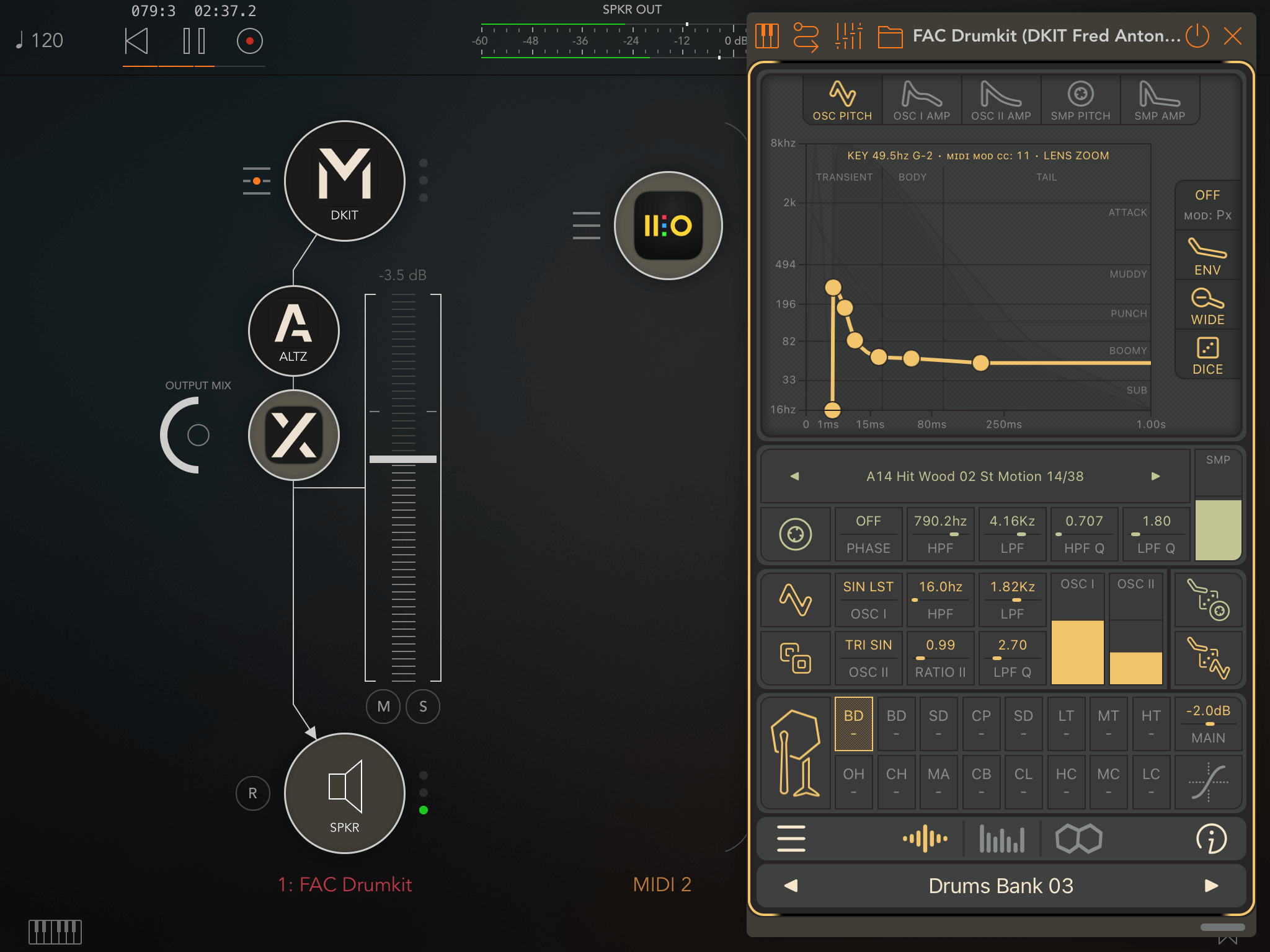 FAC Drumkit - AUM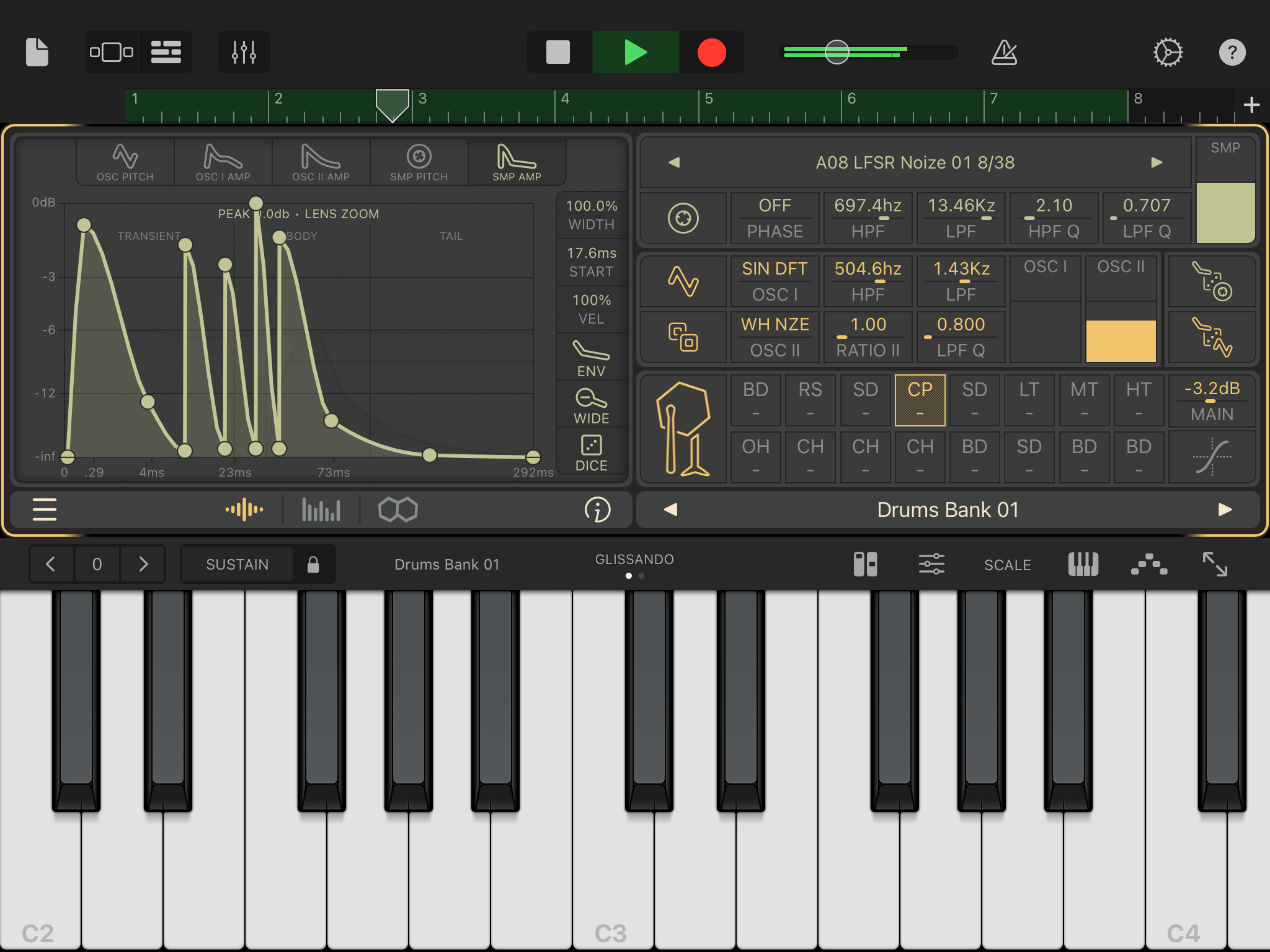 FAC Drumkit - Garage Band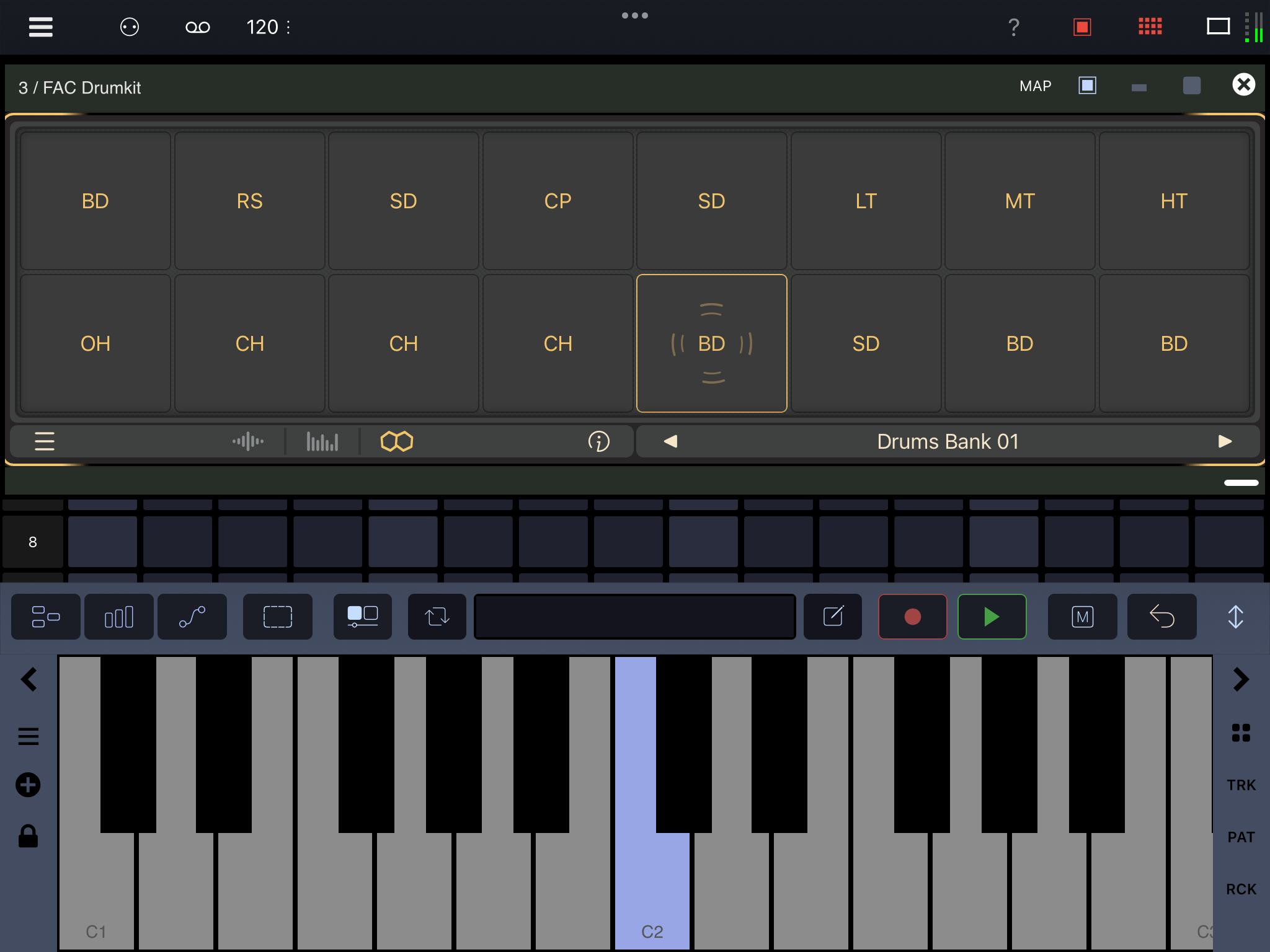 FAC Drumkit - Dramboo Pads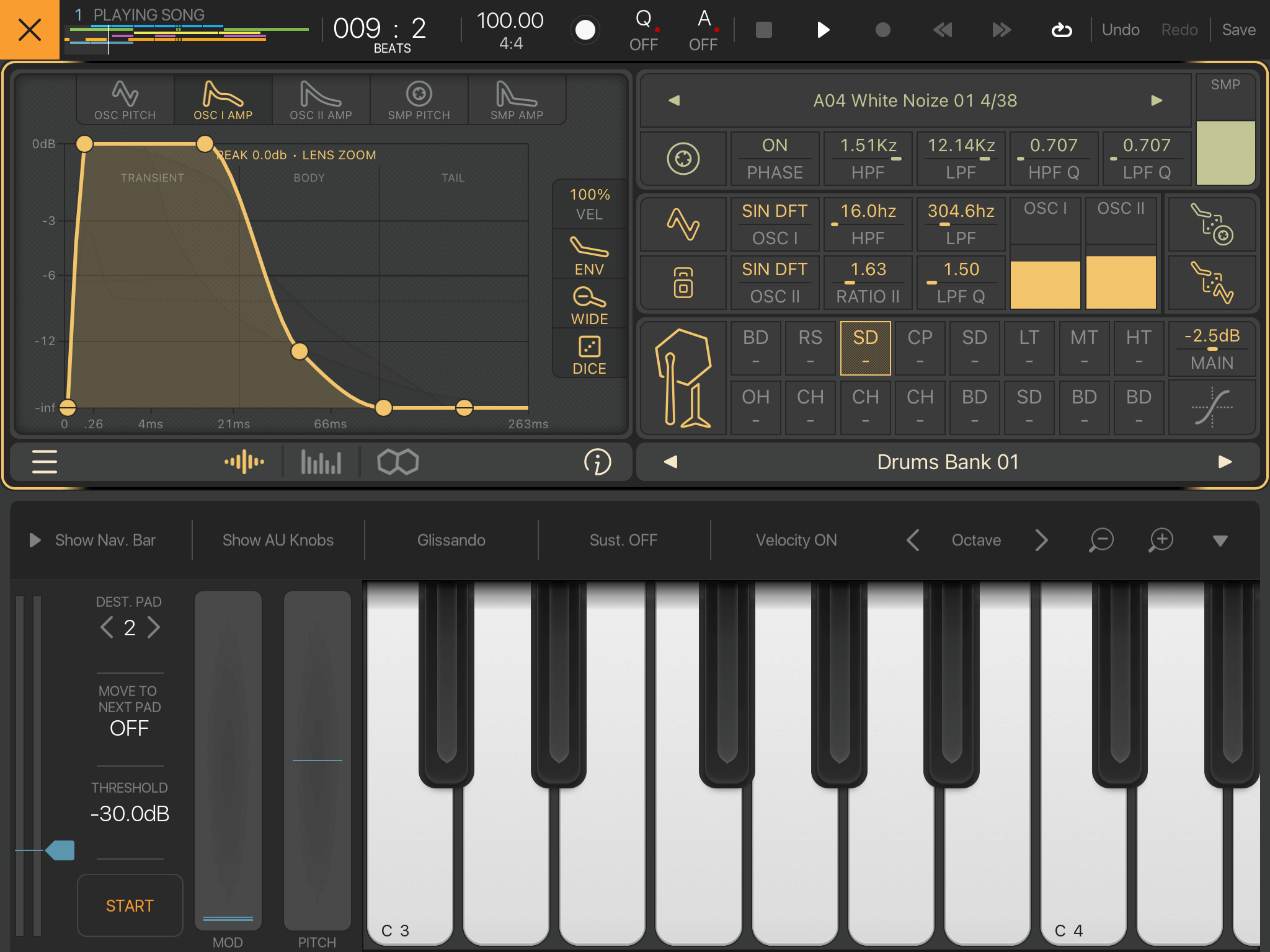 FAC Drumkit - Beat Maker
Check out what musicians think about FAC Drumkit
Review Fac Drumkit
on the App Store
Just recently got FAC Drumkit and I'm totally in love with it. What an amazing app

Poppa Docrock
Blown away already, after just a little play. No fluff, just superb functionality in a beautifully formed interface

Tontonickname
Man, those sounds have so much dynamics! This must be the best sounding drum synth on iOS

Israelite
This thing is perfect! FAC you did it again!

Eross
It sounds good. Really really good. Impressed and chuffed

Ahallam
I have to repeat this sounds awesome as all FAC apps. Thickest kicks yet on ipad for me

Ehehehe ABF