Fred Anton Corvest
Music is a wonderful universal language and an amazing source of happiness
FAC is a one person business, and as you may guess designing such apps is a very long process.
WANT TO SUPPORT FAC?
WANT TO SUPPORT MORE?
A small donation would show your appreciation and enthusiasm to keep this project moving along. Thank you
Your AUv3 effects and instruments are organised
•
Information, such as group, categories and features, are already available
•
Explore, filter, set your favorites
•
Share description and badges on social media
•
Use the keyboard extension to locate your AUv3s in your host
•
Universal
•
iCloud
•
Light/Dark mode
Audio Unit Box Explorer
Since its announcement in 2015, the number of audio units (AUv3) released on iOS has increased extraordinarily! But this success has some drawbacks, having a great overview of your plugins has become much more difficult and most of the time everything is mixed up.
Whether you are a budding music producer or passionate amateur musician, your goal is the same: having fun with your favorite audio units close at hand! Rather than spending time looking for them via grid and list with the sole search criterion of the name and the manufacturer.
AUBE is the app you need to get your collection organised. It provides a great overview of your audio units, your effects and instruments are automatically listed and classified. Information such as group, categories and features, are already available for most of the known audio units. You can explore, filter, set your favorites (available on iCloud), share badges on social media and more.
You will find all the information about an AUv3 in the detail view. If you need even more, press the info button to launch the App Store product page of the presented audio unit. Toggle the ★ button to set an AUv3 as favorite.
There are two share buttons to create badges, one is available in the detail view (next to the info button) and the other one is located on the top right corner of the dashboard page. The badge created by the detail view contains information about the selected AUv3, and the one created by the dashboard view contains your nickname, the number of detected AUv3 and a list of your favorites.
Sharing your badges on social media is a very fun way to show to your audience the audio units you love the most! You can even use them to specify which audio unit you used in your last composition.
You need to check AUBE | AUv3 Explorer app | haQ attaQ
AUBE Keyboard Extension
AUBE also comes with a keyboard extension where you will find all of your audio unit effects and instruments organised by group. Your favorites are always placed on the top of each list. Use the filter in case you need to search for something more specific.
If your AUv3 host, such as Loopy Pro, AUM, Drambo, Zenbeats or ApeMatrix, provides a search text field in their audio units list dialog, you can locate your audio units right away with the AUBE keyboard!
In such cases, simply toggle on the magnifying glass button 🔍, set the top picker on effect or instrument (according the type presented in the host list dialog) and select your favorite audio unit. If the host also updates the search and go status of the search text field, you can launch an AUv3 from the AUBE keyboard by tapping on the cell as it turns blue.
Finally, if you are looking for more inspiration, tap the dice button to get a random AUv3!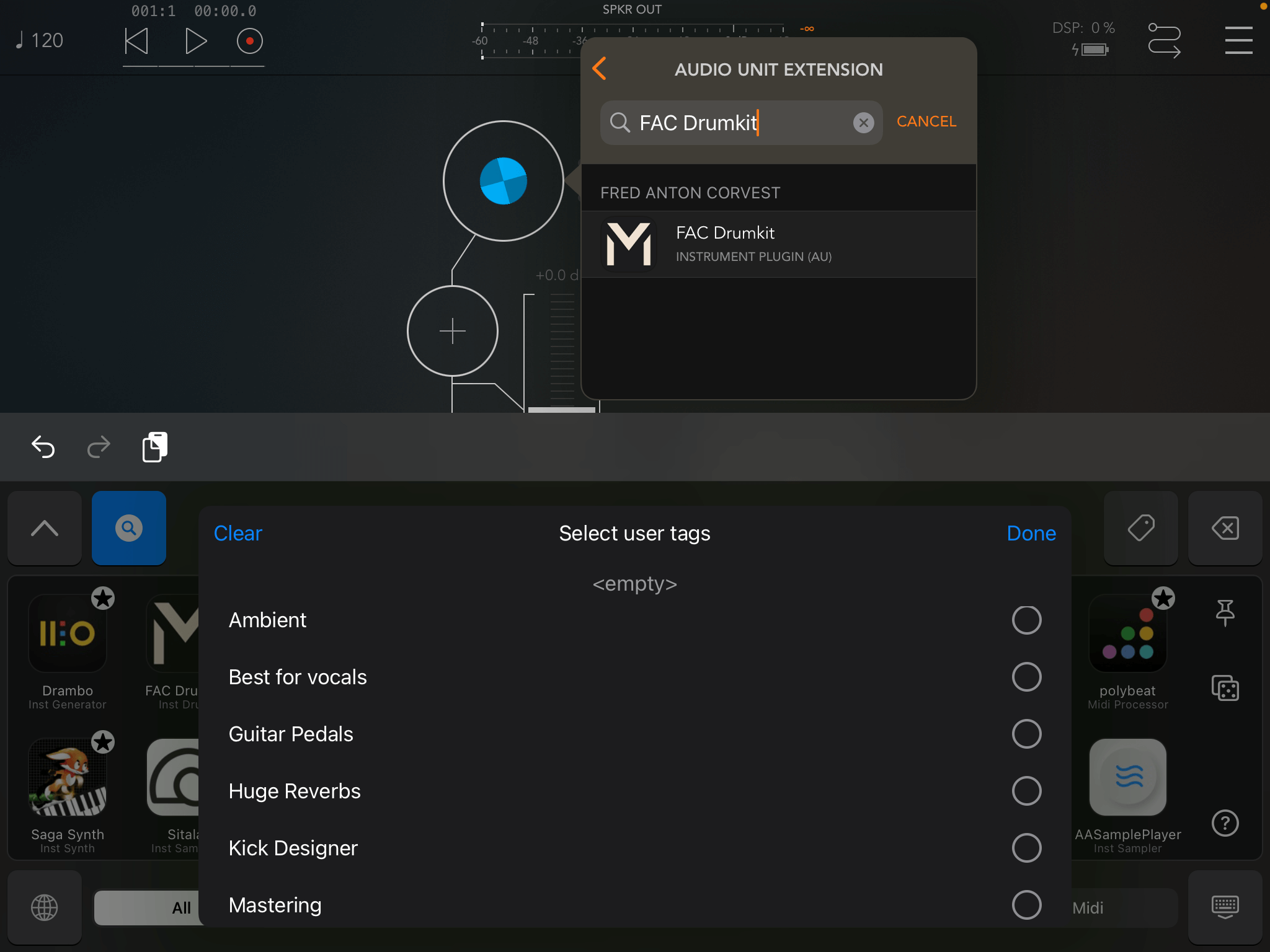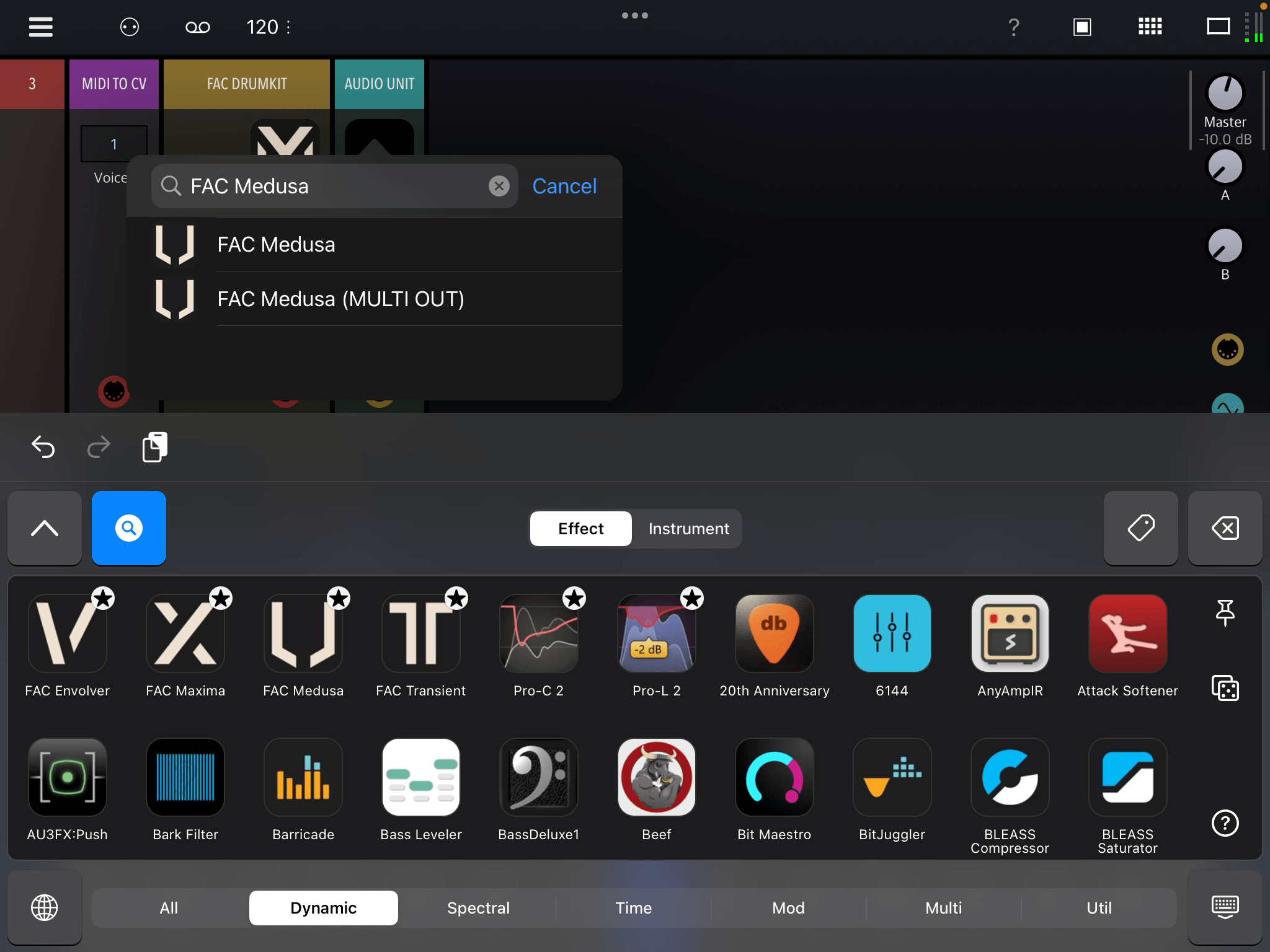 To use the AUBE keyboard in any text, toggle off the magnifying glass button 🔍. The description of the selected AUv3, including a link to the App Store, will be added to your text. To write additional information, use the globe button 🌐 to switch to your default keyboard.
This is especially helpful when you share your creation and want to mention the audio units used. For example, in a forum, on social media, or when you prepare your YouTube video description.
AUBE Settings
To keep your favorites synced across your devices, iCloud must be enabled
To generate badges and submit your unknown audio units, you must provide a name or a nickname (Min 4 characters)
To install the AUBE Keyboard, press "Keyboard Extension Not Installed" and activate it in the settings
If you are not sure, check that the keyboard is properly listed among others in the settings
To use the keyboard press or long press the globe button 🌐
It is worth mentioning that...
Unknown AUv3
AUBE provides info about a lot of AUv3 available on the market, any unknown audio units will be moved to the default group section
You can submit those unknown audio units via the page General, iCloud is required
Submitting is a single export operation, any audio unit not referenced on the App Store will be ignored
You cannot fill up the group, categories or features
The submitted audio units will be classified by us and added to the AUBE database
Database (AUv3s classification info)
The database available in AUBE already contains more than 1000 AUv3s!
There are more and more AUv3 released frequently, the classification is not trivial and takes time
Each free AUBE app update provided via the App Store contains the last version of the database
Starting mid-April 2023, it will also be possible to get early access to the latest database version via in-app consumable purchases
General
AUBE only lists the AUv3 available on the device on which it is installed
AUBE cannot access your App Store purchase history. It's restricted by Apple for obvious privacy and security reasons
Your favorites are privately shared across your different devices via iCloud
Your favorites will be only visible if the audio units are installed on the device
AUBE is not an AUv3, it does not make sounds! It's a standalone organizer app
You cannot launch/run audio units in AUBE
You cannot use the AUBE keyboard within an AUv3 host app which does not provide a search text field to locate audio units in a list
Although AUBE is running on iOS 15.0, iOS 16.0 is required to create badges
AUBE makes no warranties of any kind to the accuracy of the classification information provided.
Contact us if you find anything that's not correct
AUBE addition to the general privacy policy
User content: We collect the unknown audio units you voluntarily submit via AUBE (See Unknown AUv3 section above)
The AUBE Keyboard is running on restricted access mode and does not track your keystrokes (no text input involved)