Hey, I'm Fred developer of FAC
We share the same passion: MUSIC. A wonderful universal language and an amazing source of happiness.
FAC is a one person business, and as you may guess designing such apps is a very long process.
WANT TO SUPPORT FAC?
WANT TO SUPPORT MORE?
A small donation would show your appreciation and enthusiasm to keep this project moving along. Thank you
Multiband Audio processing, apply effect with different setting in each band

Multiband effect processor
DJ style bands isolator with crossover control
Each single band provides its own effect with mix blending control
Comes with built-in effects: Saturator, Lofi and Ring Modulator
Extendable, more effects via In-App purchase (Delay and Reverb)
Include various presets for inspiration
Suitable for any situation, going from subtle to drastic change
Multiple Outputs support
iOS Audio Unit V3

Leave a

★★★★★

review on the
Main features
FAC Bandit is a multiband audio effect that splits the audio signal into three bands of frequencies defined by adjustable crossover points. Each band is processed independently by its own effect processor and the outputs are then recombined to produce the final effect.
Each frequency range is altered with different effects and settings that won't sound the same if applied on the full frequency range. As you have probably realized, FAC Bandit is a wonderful and powerful sound design tool for designers who want to sculpt new personal, exciting and outstanding sounds. Either in a subtle way, without compromising the original tone, or in a more drastic way.
Following the diagram below, the input sound is split into three bands (Low, Mid, High) which are then recombined to the output.

The three band sections provide: an output gain control, a mute/solo toggle and a dynamic fx slot. The crossover, for its part, is available in the second band section. Both the gain and mute/solo parameters can be used as band killer, like in DJ console.
Gain - sets the level of the band after the effect, this helps to maintain tonal balance when the output is recombined
Mute/Solo - classic mute/solo channel facilities to easily spot the changes implied by the effect on the concerned frequency range
Fx - effect section. On the top there is a menu to select the effect, followed by three controls and a mix control to blend the dry signal with the wet signal. It's also possible to change the algorithms (or the model) to quickly experiment different result with the same parameters configuration. The architecture is extensible and more will come in the future.
Saturation: Tube-like distortion
Parameters

Drive - amount of saturation applied on the pre amplified signal
PreGain - pre amplification of the drive section
Pre/Post Filter - cutoff of the filter according the model

Models

Soft - soft clip before the drive, then post LPF
Hard - hard clip before the drive, then post LPF
BPF - pre BPF, then soft clip before the drive
BELL - pre BELL, then soft clip before the drive
LOFI: Low resolution character of retro vintage samplers
Parameters

Rate - down sampling rate. 1: none, 40: resampling SR of 1102hz
Bits depth - resolution of each individual sample involved in the resampling process
Filter - post LPF. Useful to reduce the artifacts generated by the decimination

Models

Classic - classic quantization
Dither - classic quantization with dithering noise applied
Rizer - advanced quantization, great down to 1 bit depth!
Jitter - classic quantization with fixed down sampling jitter
Ring Modulator: Add inharmonic content to your input signal and get great percussion, metallic or bells sounds
Parameters

Note - sets the rate (midi note number) of the modulator. Use it as the root scale, great on jamming and getting tuned percussion
Waveshape - shape of the modulator waveform: SIN/SQUARE
Tone - LPF affecting the modulated signal, useful to reduce the artifacts generated by the process

Models

RM 01 - single ring modulator
RM 02 - dual ring modulator
Delay: Tempo based delay, provides depth and ambience (In-App Purchase: 3 fxs 9 presets)
Parameters

Feedback - the amount of altered signal returned into the input
Division - the delay time as beat division
Color - the width of the band pass filter. Computed according the band boundaries

Models:

Ping Pong LR - Echoes bouncing from left to right channel
Inv Ping Pong - Echoes bouncing from right to left channel
Stereo Echo - Classic echo. Keeps the stereo image untouched
Reverb: Recreate the sonic ambience of rooms and spaces (In-App Purchase: 5 fxs 14 presets)
Parameters

Size - the dimension of the room or space
Pre Delay - the time (as beat division) between dry and wet signal
Damp - set the damping of the high frequencies

Models:

Small - Add a sense of small space, less noticable
Room - Natural room with fast decay
Hall - Wider than the Room model with a longer decay
Big - Large space with medium diffusion and long decay
Abyss - Wider than the Big model with more diffusion
Multiple Outputs support
An additional Audio Unit extension named FAC Bandit (MULTI OUT) provides multiple outputs support (Low, Mid, High bands can be routed to individual output in your AU host). Warning: to use this additional extension you need an AU host supporting multiple outputs (AUM, ApeMatrix). If not, use the regular FAC Bandit Audio Unit extension.
Preset Management
FAC Bandit also comes with factory presets to provide you a source of inspiration to satisfy your needs in any situation you might require.
The preset button provides common management features: loading, organization, and saving. The left and right arrows allow fast navigation shortcuts among all the presets (factory + user), a short press on the center label provides a detailed list of all the available presets, select the one you want to work with. On the other hand a long press (hold) provides contextual operation. For factory presets it's possible to save the current preset to a user preset, for user presets it's possible to rename, save and delete the current preset.
In-App purchase via the store available in FAC Bandit host
Lauch the Main App, touch the INFO button and select "In-App Purchase". Then, to buy a new product:
Touch the buy button (Price)
Wait for the confirmation alert, confirm your purchase
Wait for the transaction to complete, restart the app
FAC Bandit - NS2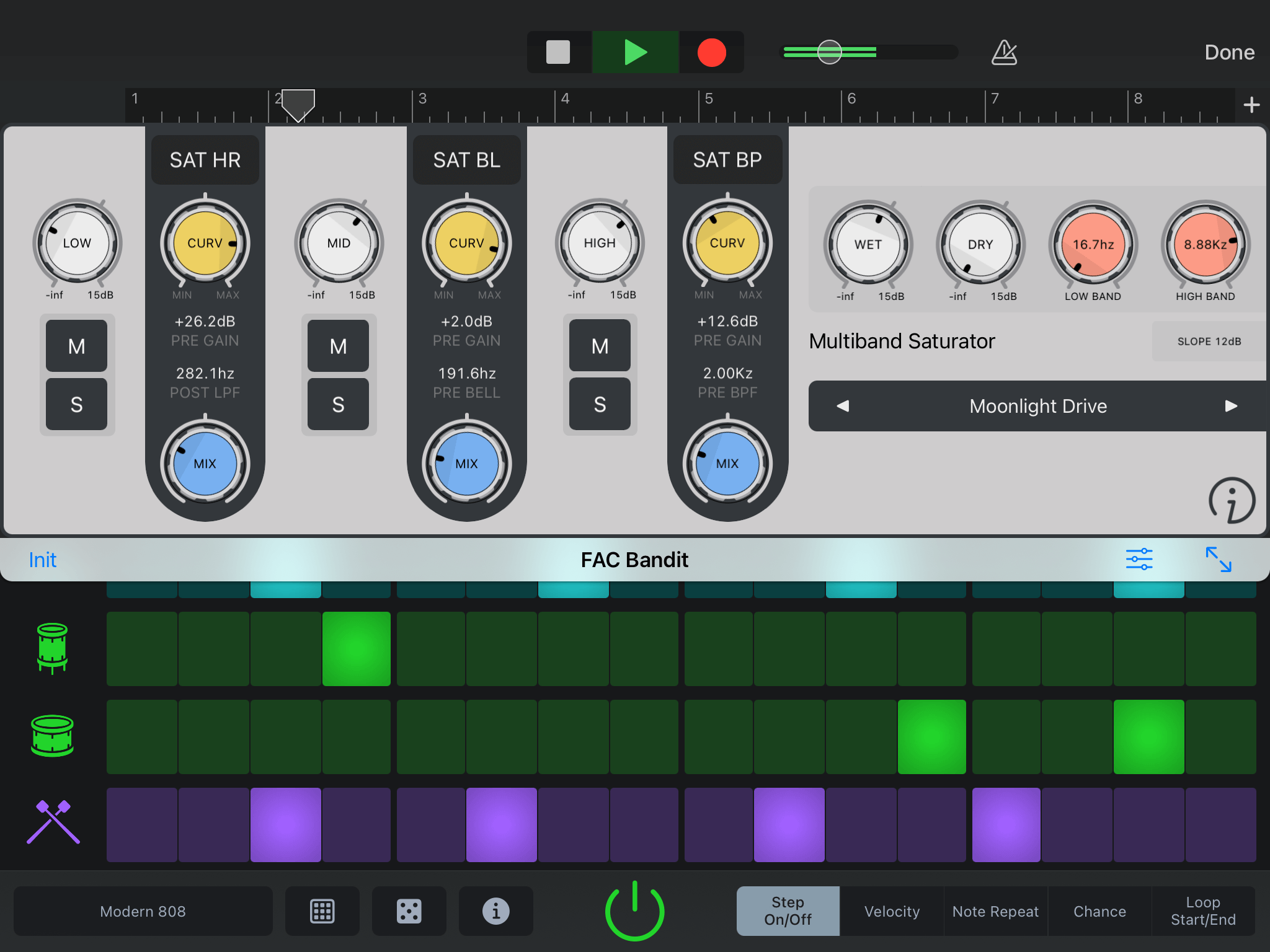 FAC Bandit - Garage Band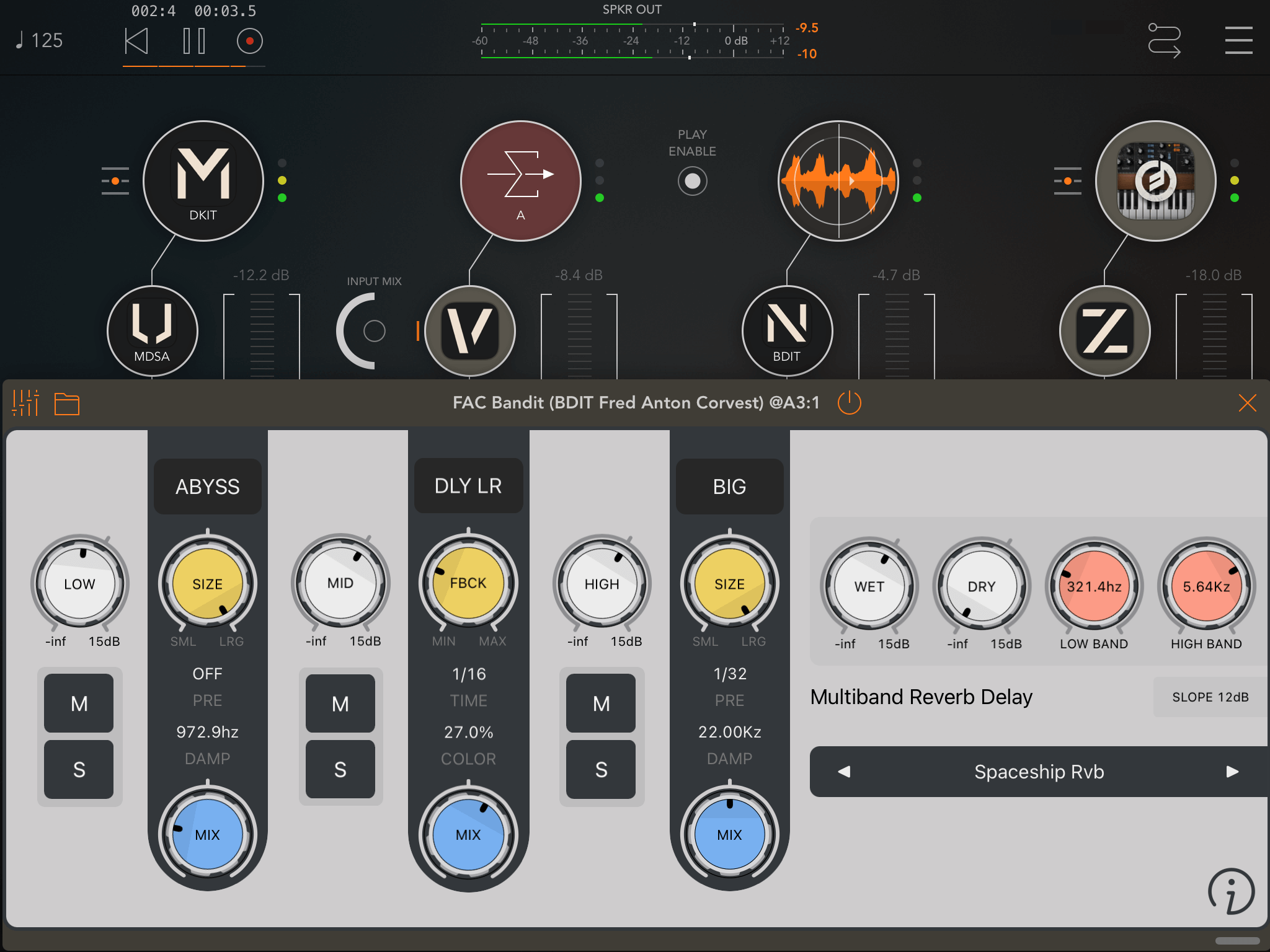 FAC Bandit - AUM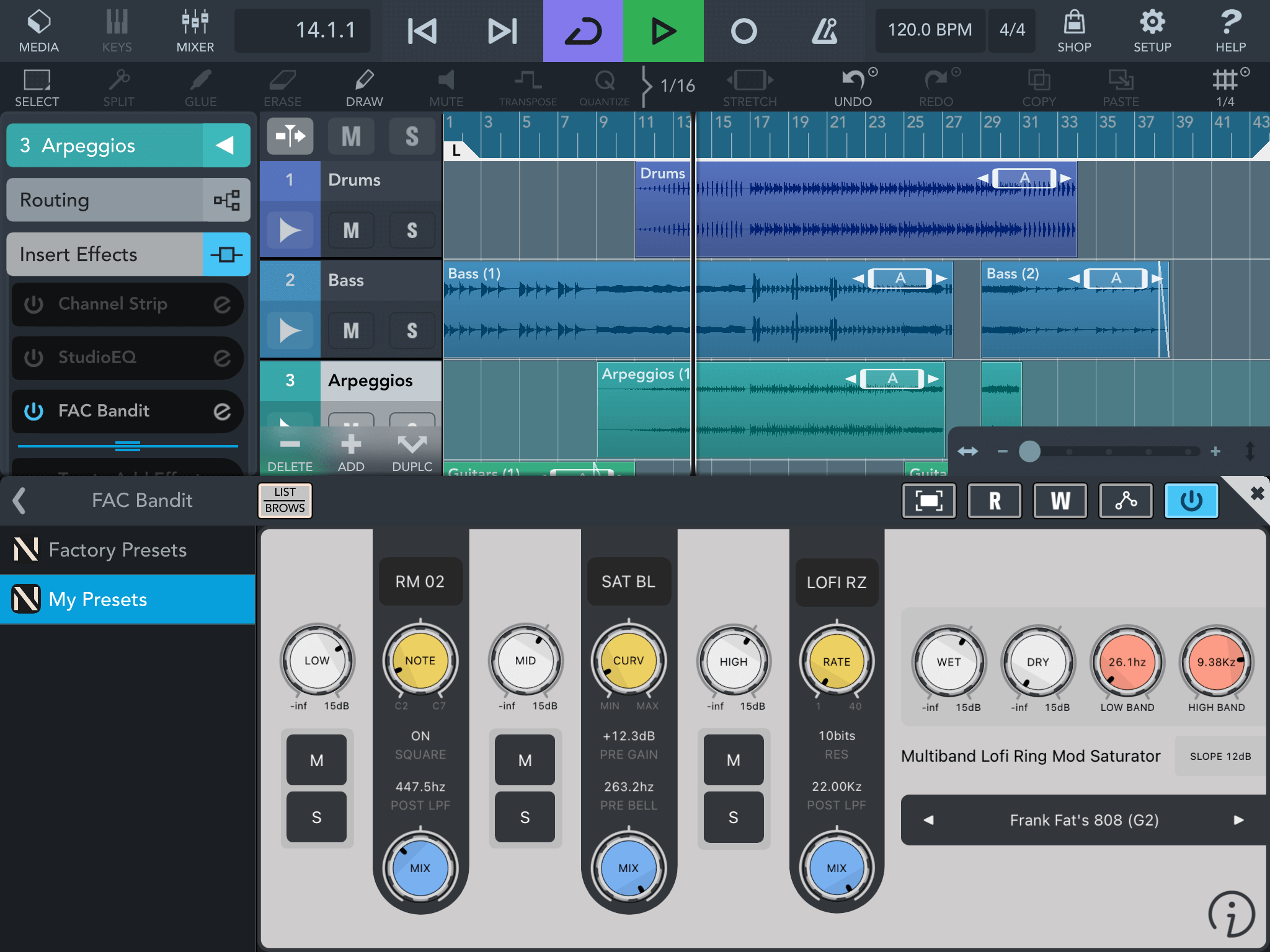 FAC Bandit - Cubase
Check out what musicians think about FAC Bandit
I really REALLY love this plugin. Especially hard saturator on extreme settings, just beautiful distortion... this plugin goes instantly to my TOP 10 best plugins on iOS.. I have installed actually just 12 effect plugins on my iPad but 3 of them are FAC stuff :))

Dendy
Really transforms the original audio source in whatever direction you want. Another great FAC app.

Plu Collective
One of the apps I have fallen for like really hard is FAC Bandit...

Samu
Love it. So nice playing with the high end and muting the bands.

Oat Phipps
Wow this is a really impressive effect. The processing between the separate bands sounds suuuuper clean. This will be my new goto to beef up drums.

DCJ